Mind of My Mind (Patternist #2) (Paperback)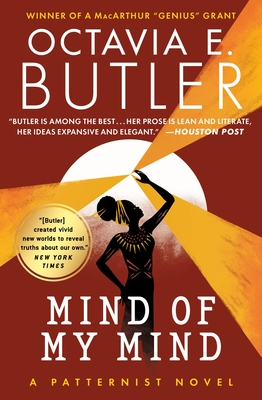 $16.99
On our shelves now (while supplies last)
Other Books in Series
This is book number 2 in the Patternist series.
Description
---
A young woman harnesses her newfound power to challenge the ruthless man who controls her, in this brilliant and provocative novel from the award-winning author of Parable of the Sower.

Mary is a treacherous experiment. Her creator, an immortal named Doro, has molded the human race for generations, seeking out those with unusual talents like telepathy and breeding them into a new subrace of humans who obey his every command. The result is Mary: a young black woman living on the rough outskirts of Los Angeles in the 1970s, who has no idea how much power she will soon wield.

Doro knows he must handle Mary carefully or risk her ending like his previous experiments: dead, either by her own hand or Doro's. What he doesn't suspect is that Mary's maturing telepathic abilities may soon rival his own power. By linking telepaths with a viral pattern, she will create the potential to break free of his control once and for all-and shift the course of humanity.


About the Author
---
OCTAVIA E. BUTLERwas a renowned writer who received a MacArthur "Genius" Grant and PEN West Lifetime Achievement Award for her body of work. She was the author of several award-winning novels including Parable of the Sower, which was a New York Times Notable Book of the Year, and was acclaimed for her lean prose, strong protagonists, and social observations in stories that range from the distant past to the far future. Sales of her books have increased enormously since her death as the issues she addressed in her Afrofuturistic, feminist novels and short fiction have only become more relevant. She passed away on February 24, 2006.
Praise For…
---
PRAISE FOR OCTAVIA E. BUTLER'S NOVELS-
"Brilliant, endlessly rich...pairs well with
1984
or
The Handmaid's Tale.
"
John Green, New York Times(on Parable of the Sower)
"
Wild Seed
is a book that shifted my life . . . It is as epic, as game-changing, as moving and brilliant as any science fiction novel ever written."
Viola Davis
"Aninternationally acclaimed science fiction writer whose evocative, oftentroubling, novels explore far-reaching issues of race, sex, power and, ultimately,what it means to be human."
New York Times
"If we're talking must-read authors like Maya Angelou, James Baldwin, and Toni Morrison, the one-and-only Octavia Butler needs be a part of the conversation. The groundbreaking sci-fi and speculative fiction author was a master of spinning imaginative tales that introduced you to both the possibilities -- and dangers -- of the human race, all while offering lessons on tribalism, race, gender, and sexuality."
O, The Oprah Magazine
"More than any novel I've ever read, Octavia Butler's
Wild Seed
examines power, what it means to wield it responsibly and what it means to resist it when it is wielded capriciously."
Rion Amilcar Scott, PEN/Robert W. Bingham Prize-winning author of Insurrections
"In the ongoing contest over which dystopianclassic is most applicable to our time, Octavia Butler's 'Parable' books may beunmatched."
New Yorker (on Parableof the Sower)
"Butler is one of the finest voices infiction-period . . . A master storyteller with a voice that cradles andcaptivates, Butler casts an unflinching eye on racism, sexism, poverty andignorance, and lets the reader see the terror and beauty of human nature."
Washington Post Book World
"Haunting. . . apocalyptic . . . compelling."
Essence