What It Means When a Man Falls from the Sky: Stories (Paperback)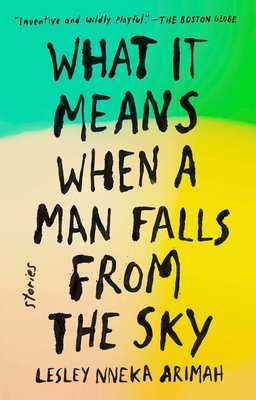 $16.00
Backordered. Not in stock at store and may take a number of weeks to arrive.
April 2017 Indie Next List
---
"Intense, haunting, and exquisitely rendered, the stories in Lesley Nneka Arimah's debut collection exist in a category of their own. They are individual worlds linked together by familiar themes - self-discovery, yearnings to love and be loved, generational divides, and the meanings of home and place - refashioned in a fresh, new light. Arimah shines in this debut, whose magic will surely live with you beyond the final page. Absolutely stunning."
— Purvis Cornish (W), Square Books, Oxford, MS
Summer 2018 Reading Group Indie Next List
---
"The complexities of the lives of girls and their mothers are explored through a Nigerian lens in this remarkable debut collection. Strains of magical realism enlarge some of the stories to modern folktale. Yet throughout, Lesley Nneka Arimah delivers sharp observations on the fraught relationships between mothers and the young women they must mentor as they all navigate what is still a very patriarchal world."
— Kris Kleindienst, Left Bank Books, St. Louis, MO
Description
---
A PBS NewsHour/New York Times Book Club Pick

A NATIONAL BOOK FOUNDATION "5 UNDER 35" HONOREE

WINNER OF THE 2017 KIRKUS PRIZE

WINNER OF THE NYPL'S YOUNG LIONS FICTION AWARD

FINALIST FOR THE NATIONAL BOOK CRITICS CIRCLE LEONARD PRIZE

SHORTLISTED FOR THE ASPEN WORDS LITERARY PRIZE

A dazzlingly accomplished debut collection explores the ties that bind parents and children, husbands and wives, lovers and friends to one another and to the places they call home. 

In "Who Will Greet You at Home," a National Magazine Award finalist for The New Yorker, A woman desperate for a child weaves one out of hair, with unsettling results. In "Wild," a disastrous night out shifts a teenager and her Nigerian cousin onto uneasy common ground. In "The Future Looks Good," three generations of women are haunted by the ghosts of war, while in "Light," a father struggles to protect and empower the daughter he loves. And in the title story, in a world ravaged by flood and riven by class, experts have discovered how to "fix the equation of a person" - with rippling, unforeseen repercussions. 

Evocative, playful, subversive, and incredibly human, What It Means When a Man Falls from the Sky heralds the arrival of a prodigious talent with a remarkable career ahead of her.
About the Author
---
Lesley Nneka Arimah was born in the UK and grew up in Nigeria and the United States. Her work has received grants and awards from Commonwealth Writers, the Elizabeth George Foundation, The MacDowell Colony, Breadloaf and others. She was selected for the National Book Foundation's 5 Under 35 and is the recipient of an O'Henry Award. Her debut collection, What it Means When a Man Falls from the Sky, won the Kirkus Prize and the New York Public Library Young Lions Award, and was a finalist for the Aspen Words Literary Prize and the National Book Critics Circle Leonard Prize. She currently lives in Minneapolis.
Praise For…
---
"Strange and wonderful… a witty, oblique and mischievous storyteller, Arimah can compress a family history into a few pages and invent utopian parables, magical tales and nightmare scenarios while moving deftly between comic distancing and insightful psychological realism…her science fiction parables, with their ecological and feminist concerns, recall those of Margaret Atwood. But it would be wrong not to hail Arimah's exhilarating originality: She is conducting adventures in narrative on her own terms, keeping her streak of light, that bright ember, burning fiercely, undimmed." –New York Times Book Review

"[A] remarkable debut collection…Of all of Arimah's considerable skills, this might be her greatest: She crafts stories that reward rereading, not because they're unclear or confusing, but because it's so tempting to revisit each exquisite sentence, each uniquely beautiful description…electrifying [and] defiantly original." –NPR 

"Stunning." –O, the Oprah Magazine, "A Best Book of Spring"

"Arimah's voice is vibrant and fresh, her topics equally timely and timeless…This is a slim, rare volume that left me compelled to press it into the hands of friends, saying, 'You must read this.'"  –The Washington Post

"Arimah writes unsettling tales where science can save the world, but harm individuals that try to help, where political unrest and domestic abuse haunt women in circles, and where family can harm and help. We've been asking for dystopia and horror stories written by POC, and Arimah has delivered." –BookRiot

"Mesmerizing...the announcement of an astonishing writer whose words dare the heart and mind to remain unstirred...With its fluid blend of dark humor, sorrow, and excursions into magic realism, some of Arimah's stories feel like a jazzy cross between Octavia Butler and Shirley Jackson. Yet there is nothing derivative here. Arimah's writing is deliciously unpredictable…Her words throb with truth." -Boston Globe

"Glittering." -The Daily Beast

"It's hard to stress how well written each of the short stories in this collection are—how striking and memorable they truly are—without resorting to clichés. Arimah is truly a master of the form and in What It Means When a Man Falls From the Sky, she displays that mastery with such compelling self-assuredness and with such creative empathy, that it's hard to put the collection down until you've read and re-read every story." –Jezebel

"Readers of The New Yorker will recognize Lesley Nneka Arimah's name, as "Who Will Greet You at Home," one of her pieces, was nominated for a National Magazine Award. Now, in her first book of short stories, the talented author will deservedly reach a wider audience. Prepare yourself for one of the best collections so far." –Essence 

"Chilling, dreamy, often breathtaking…Arimah's stories are witty, poetic and searing, full of flawed-but-lovable characters and images that make you reread passages. The author has a keen sense of fantasy and the absurd, but her work is rooted in experiences and impulses that will seem all too familiar." –The Seattle Times

"Arimah blends magical realism and sci-fi elements for a truly unique set of stories about family, friendship, and home that will leave you hungry for more of her work." –Cosmopolitan

"Beautifully written stories...[that] speak to what makes us human and how we define home, and coalesce into a remarkable collection." –Buzzfeed

"A writer to watch...No matter how left-of-center her narratives, there's a recognizable humanity at their core — a sense of something universal, told in unsentimental language…Arimah's extraordinary ability to convey imagined experience, and to give her readers an emotional understanding of her characters' struggles, has earned her early acclaim in the literary universe." –Village Voice 

"A spirit of willful perseverance suffuses Arimah's collection...Above all, her writing conveys respect for the people who claw their way through relentlessly difficult lives…These tales don't celebrate virtue, but they pay tribute to tenacity." –The Atlantic

"These stories explore all manner of parental care, paying special attention to the arcane expectations of femininity and motherhood from the U.S. to Nigeria, along with the relationship between mother and daughter." –The New Yorker

"Everyone in the book world is talking about this collection of short stories by debut author Lesley Nneka Arimah, and it's not hard to see why. Including stories about a father struggling to empower his daughters, three generations of women who are haunted by memories of war, and the shocking repercussions from experts trying to "fix the equation of a person," this is the type of book you're going to want to tweet about a lot. We guarantee it." –Brit + Co

"The genius of Lesley Nneka Arimah's dizzying compilation of beautifully written short stories...lies in its diversity…from fable to dystopian to magical realism – but the complex relationship between family and home is the common thread woven throughout. Arimah describes the stories as reflecting the Nigerian experience, and that very well might be the case, but the characters' feelings of despair, expectation, and, often, disappointment are universally human...A compelling debut from an author we can't wait to keep reading." –NYLON 

"An exciting new voice in short fiction. Start with the titular story, and you'll be dropped into a beautifully crafted world that is both familiar and strange, a future in which emotions can be extracted by careful mathematics." –Southern Living

"Sometimes the hype around a highly anticipated title makes me skeptical. This short story collection by Lesley Nneka Arimah silenced that cranky inner cynic and instead gave me something to celebrate." -Dallas News

"The characters in Arimah's haunting, twisted fairy tales are simultaneously held aloft and sunk by the force of familial trauma, often passed down from parent to child, and informed by structural violence: poverty, racism, gender stereotypes, nationalism...The magic of Arimah's writing is her ability to capture how a character's swooping desperation can give them the sensation of flying." –Village Voice

"Each time I finished a story in Lesley Nneka Arimah's debut collection, I had to close the book and remind myself to breathe. She cast that spell on me twelve times over, each story breaking the boundary of the one that came before it... If you want to know what's happening on the new frontiers of fiction, this is the book you need to read." –Ploughshares

"Beautiful gut punches.…surprising, swift and vivid…Arimah moves from folk tale to gritty realism, from magical realism to science fiction. The result is an inventive and multifaceted portrait of womanhood and identity...Essential reading from an exciting new writer." –St. Louis Post-Dispatch

"[Arimah] weaves indelible stories of geographical displacement, cultural diversity and conflict. Altogether the collection teems with both dry humor and profound melancholy, each narrative is just as consuming as the last." –Harper's Bazaar

"Arimah is a skillful storyteller who can render entire relationships with just a few lines of dialogue…Despite its themes of grief and loss, [her] prose is not without humor." –Minneapolis Star-Tribune

"Unforgettable characters, unexpected plot lines…and Arimah's vibrant prose have placed her firmly on our "remember this writer's name" list." –PureWow 

"All of [the stories] are wrought in gorgeous prose, moving easily between intimate domestic realism and the supernatural and fantastic…[Lesley has a] bracingly original voice and slightly askew perspective." –Aspen Times

"A story collection full of dazzlers." –BBC

"There are stories that are grand enough to be published in The New Yorker and then every year there are a few stories that The New Yorker then nominates for National Magazine Awards. Debut author Lesley Nneka Arimah writes those kinds of stories, and her new collection is teeming with wondrous, surreal narratives." –Coast Magazine

"There is no question that Lesley Nneka Arimah's debut collection establishes her as one to watch: and boy, I can't wait to see what she does next." –Newsweek 

"Brilliant...Each of the stories will pull at your heartstrings as they portray the most complicated of human relationships." –Redbook

"In our current political climate with its rampant animosity towards immigrants, Arimah offers a humanizing portrait of both the Nigerian citizen and first generation young female immigrant. She showcases their flaws, their desires, their victories, and their attempts at carving out a place in a country whose customs and values diverge from that of their heritage." –The Rumpus 

"Completely captivating…Arimah explores the depth of the human experience through eccentric protagonists, unexpected plots, and exceptional storytelling. It's a global perspective of what Blackness looks like and how the experience of Black women is inherently alike, whether you're in Nigeria or Chicago." –Ebony 

"Inventive and wildly playful." –The Boston Globe

"Revelatory…Arimah's works, which include speculative fiction and African mythology, demonstrate her gift for telling detail and odd twists…This astonishing collection is an impressive debut." –Shelf Awareness

"Arimah's stories bring a perspective more and more common in a global society: that of a nomad uncertain where home is." –Thrillist 
 
"Seamlessly blends magical realism and a kind of sci-fi, resulting in a one-of-a-kind...Brilliant." –The Millions

"[Arimah] turned some folks' worlds upside down...I can't wait to devour this." –Black Nerd Problems

"Sharp and surprising, fantastic and dark, human and heartbreaking...a must-add to your short fiction list …I loved every minute of reading this book." –Julie Wernersbach, Director of the Texas Book Festival

"[Arimah's] stories reflect international breadth but also capture an expat's sense of alienation…several pieces in this powerful debut collection already have garnered awards, and each story, tightly crafted and unique, will etch into your memory. Highly recommended." –Library Journal (starred)

"A slender yet mighty short story collection that delivers one head-snapping wallop after another…Arimah's emotional and cultural precision and authenticity undergird her most imaginative leaps. She flirts with horror fiction, presents a ghost story, and creates an arresting form of magic realism in sync with that of Shirley Jackson, George Saunders, and Colson Whitehead…stingingly fresh and complexly affecting." –Booklist (starred) 

"A powerful and incisive debut . . . Arimah gracefully inserts moments of levity into each tale and creates complex characters who are easy to both admire and despise . . . this collection electrifies." –Publisher's Weekly (starred)

"Arimah has skill in abundance: the stories here are solid and impeccably crafted and strike at the heart of the most complicated of human relationships. Against a backdrop of grief for dead parents or angst over a lover, Arimah uses Nigeria as her muse...join[ing] everything from fabulism to folk tale...while also managing to create a wholly cohesive and original collection. Heralds a new voice with certain staying power." –Kirkus (starred)

"With her luminous debut collection, Lesley Nneka Arimah marks her richly deserved place in contemporary fiction. At the center of each impeccably written story, Arimah offers up a new kind of yearning--for love, for peace, for comfort, for home. Never have needful things been so gorgeously displayed." 
–Roxane Gay, author of Bad Feminist and Difficult Women

"How does she make these stories so distilled and spacious at the same time? They are drained of excess but still expand so fearlessly. A remarkable debut, from a writer I'm sure we'll be reading for years to come."
–Aimee Bender, author of The Color Master and The Particular Sadness of Lemon Cake

"A striking collection that will make the hair on the back of your neck stand at attention and your heart gasp in admiration. Arimah's stories are intense, mesmeric, and nothing short of stunning."
–Claire Vaye Watkins, author of Battleborn and Gold Fame Citrus

"Without question, one of the finest story collections I've read in years. Arimah excels at capturing the kinetic ache of dislocation, of dwelling in the mysterious territory that divides places and selves and generations. Wondrous."
–Laura van den Berg, author of Find Me and The Isle of Youth

"In these gorgeous stories, Arimah dreams a world.  These tales cut like razors, charm like poetry, and heal like love.  International in scope, but deeply personal, What It Means When A Man Falls From The Sky marks the arrival of a stunning new voice."
–Tayari Jones, author of Silver Sparrow

"What it Means When a Man Falls from the Sky is an exciting and audacious collection. At turns otherworldly and heartbreakingly familiar, these stories represent all that we could ever want from short fiction. The humor is wicked and the heart big, beautiful, and full of want."
 –Diane Cook, author of Man V. Nature

"Lesley Nneka Arimah's debut will be making a hell of a lot of noise. Writing this good just can't stay quiet. What It Means When a Man Fall from the Sky is your introduction to one of the best and brightest new writers around."
 –Victor LaValle, author of Big Machine and The Changeling