The Ballad of the Sad Cafe: and Other Stories (Paperback)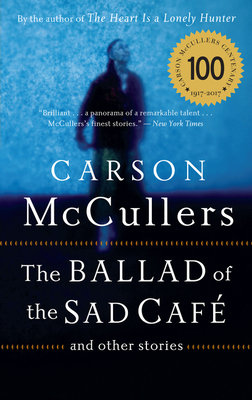 $12.99
Backordered. Not in stock at store and may take a number of weeks to arrive.
Description
---
A classic work that has charmed generations of readers, this collection assembles Carson McCullers's best stories, including her beloved novella "The Ballad of the Sad Café." A haunting tale of a human triangle that culminates in an astonishing brawl, the novella introduces readers to Miss Amelia, a formidable southern woman whose café serves as the town's gathering place. Among other fine works, the collection also includes "Wunderkind," McCullers's first published story written when she was only seventeen about a musical prodigy who suddenly realizes she will not go on to become a great pianist. Newly reset and available for the first time in a handsome trade paperback edition, The Ballad of the Sad Café is a brilliant study of love and longing from one of the South's finest writers.
About the Author
---
Carson McCullers (1917-1967) was the author of numerous works of fiction and nonfiction, including The Heart is a Lonely Hunter, The Member of the Wedding, Reflections in a Golden Eye, and Clock Without Hands. Born in Columbus, Georgia, on February 19, 1917, she became a promising pianist and enrolled in the Juilliard School of Music in New York when she was seventeen, but lacking money for tuition, she never attended classes. Instead she studied writing at Columbia University, which ultimately led to The Heart Is a Lonely Hunter, the novel that made her an overnight literary sensation. On September 29, 1967, at age fifty, she died in Nyack, New York, where she is buried.