Serious Noticing: Selected Essays, 1997-2019 (Hardcover)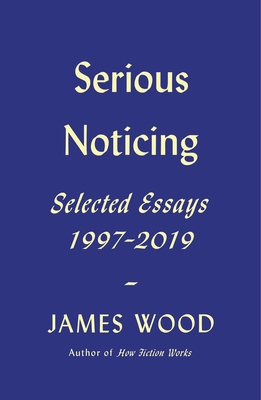 $30.00
On our shelves now. We will confirm availability.
Staff Reviews
---
I have wanted to order in a collection of James Wood essays since I started at Subterranean and was so disappointed that his last book was no longer in print. Happy days are here again! A brand new collection is out and contains my beloved first essay I ever read by him, "The Fun Stuff," about Keith Moon, the first drummer and wild man for The Who. James Wood is an essayist who can take you from rock and roll to Saul Bellow, from Zadie Smith to Cormac McCarthy, and back again seamlessly. I especially enjoyed his analysis on Dostoevsky. You learn so much and realize ideas you may not even fully knew you had through his words. It's just fun. Like all great essayists, he himself becomes part of the pieces but not the main focus. If you like essays and literary criticism, he's one of the best.

— From
Gena
Description
---
The definitive collection of literary essays by The New Yorker's award-winning longtime book critic

Ever since the publication of his first essay collection, The Broken Estate, in 1999, James Wood has been widely regarded as a leading literary critic of the English-speaking world. His essays on canonical writers (Gustav Flaubert, Herman Melville), recent legends (Don DeLillo, Marilynne Robinson) and significant contemporaries (Zadie Smith, Elena Ferrante) have established a standard for informed and incisive appreciation, composed in a distinctive literary style all their own.

Together, Wood's essays, and his bestselling How Fiction Works, share an abiding preoccupation with how fiction tells its own truths, and with the vocation of the writer in a world haunted by the absence of God. In Serious Noticing, Wood collects his best essays from two decades of his career, supplementing earlier work with autobiographical reflections from his book The Nearest Thing to Life and recent essays from The New Yorker on young writers of extraordinary promise. The result is an essential guide to literature in the new millennium.
About the Author
---
James Wood is a staff writer at The New Yorker and Professor of the Practice of Literary Criticism at Harvard University. He is the author of How Fiction Works, as well as two essay collections, The Broken Estate and The Irresponsible Self, and a novel, The Book Against God.
Praise For…
---
"James Wood is perhaps one of the most intelligent and passionate literary critics working today . . . In its entirety this is a masterful 'greatest hits' collection . . . One has the very strong sense that no essay placement was accidental . . . They are independent pieces, and it is easy enough to read any particular essay in any order, but there is a certain, almost meditative, pleasure in reading the book cover to cover." —Angela M. Giles, Los Angeles Review of Books

"Two voices vie in [Serious Noticing] . . . the professor, stately and composed, guiding the reader through forensically close readings of the text, pointing out fiction's innovations and revolutions—the "failed privacies" of Chekhov's characters, the "unwrapped" consciousness in Virginia Woolf's novels. The other voice—pitched about half an octave higher, blunt, reedy, very winning — pops up in the essays . . . The reviews and essays settle into a rolling rhythm, pleasing counterpoints." —Parul Sehgal, The New York Times Book Review

"What makes Wood . . . formidable? The most obvious answer is the crackling sensuousness of his prose. He writes unusually tactile criticism, thick with images you can almost reach out and grasp. . . With criticism like this, who needs fiction?" —Becca Rothfeld, Bookforum

"In the unspooling sentences and paragraphs of the many fine and often seriously dandy essays that follow in this collection . . . Wood shows himself a maestro of tone and inflection. His sustained close attention as he interrogates the writers he loves is genuinely something to behold . . . Wood set off writing in that high canonical tradition that sought to replace Bible study with practical criticism and preachers with English teachers.'" —Tim Adams, Observer