Changing Planes: Stories (Paperback)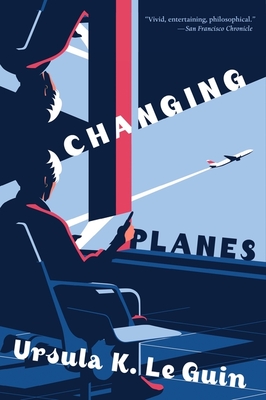 $15.99
Not in stock at store. Will, in most instances, ship from our warehouse in 7-10 days
Staff Reviews
---
I am always excited when a fresh release arrives by Ursula in the shop! She takes the genre of sci-fi and makes it this lovely, kind and slightly satirical gesture of philosophical inquiry into why we live our lives the way we do. In this book, while waiting in airports, the protagonist learns how to travel to other "planes" while waiting for her flight. That's the set up, and the ultimate result is gently putting up a mirror to ourselves. It is an exercise in opening the mind, challenging our stereotypes, and perhaps illuminating ways we might grow in our society to be more humane and wise, but never preachy. It's structured as short stories, each one exploring a different world of people and cultures. The chapter on "The Fliers is Gy" is my favorite, absolutely exceptional.
— From
Gena
Description
---
Winner of the PEN/Malamud Award for Short Story
A New York Times Notable Book

In these "vivid, entertaining, philosophical dispatches" (San Francisco Chronicle), literary legend Le Guin weaves together influences as wide-reaching as Borges, The Little Prince, and Gulliver's Travels to examine feminism, tyranny, mortality and immortality, art, and the meaning—and mystery—of being human.

Sita Dulip has missed her flight out of Chicago. But instead of listening to garbled announcements in the airport, she's found a method of bypassing the crowds at the desks, the nasty lunch, the whimpering children and punitive parents, and the blue plastic chairs bolted to the floor: she changes planes.

Changing planes—not airplanes, of course, but entire planes of existence—enables Sita to visit societies not found on Earth. As "Sita Dulip's Method" spreads, the narrator and her acquaintances encounter cultures where the babble of children fades over time into the silence of adults; where whole towns exist solely for holiday shopping; where personalities are ruled by rage; where genetic experiments produce less than desirable results. With "the eye of an anthropologist and the humor of a satirist" (USA Today), Le Guin takes readers on a truly universal tour, showing through the foreign and alien indelible truths about our own human society.
About the Author
---
URSULA K. LE GUIN was born in Berkeley, California, in 1929, and passed away in Portland, Oregon, in 2018. She published over sixty books of fiction, nonfiction, poetry, drama, children's literature, and translation. She was the recipient of a National Book Award, six Hugo and five Nebula awards, and was inducted into the American Academy of Arts and Letters.
 
KAREN JOY FOWLER is the author of six novels and four short story collections, including
We Are All Completely Beside Ourselves
and
Black Glass.
She is the winner of the 2014 PEN/Faulkner Award, a finalist for the Man Booker Prize, and has won numerous Nebula and World Fantasy Awards.
ERIC BEDDOWS has won the Amelia Frances Howard-Gibbon Award and the Governor General's Literary Award, among others.
Praise For…
---
Praise for Changing Planes

"An accomplished stylist . . . Even Le Guin's overtly cautionary tales have a delicacy that disarms resistance. Outstanding among these are the almost unbearably poignant 'Fliers of Gy' and 'The Island of the Immortals,' which break new ground in exploring the dangers of getting what you wish for." — New York Times Book Review

"Changing Planes is a fantastical travel guide, reminiscent of Gulliver 's Travels, in which the narrator visits fifteen planes and describes the people, language, and customs with the eye of an anthropologist and the humor of a satirist." — USA Today

"Vivid, entertaining, philosophical dispatches." — San Francisco Chronicle

"They say God is in the details, but in Le Guin's case, genius is in the details . . . [Her] writing transports us to other worlds . . . Pure imagination unbound." — Portland Oregonian

"Le Guin, as always, treats fantasyland with the utmost matter-of-factness . . . Arresting." — Boston Sunday Globe

"A welcome collection for the many fans of speculative fiction's multiple-award-winning grande dame." — Seattle Times

"These sixteen stories are distilled Le Guin, a series of spare, conceptual parables strung with witty and deadly serious satire. In her impeccable prose, without rancor but also without illusion, Le Guin casts a clear eye on this world of ours, and delineates all the heinous and dazzling things it is and was and may become." — Bloomsbury Review

"Le Guin describes compellingly the joy of flying, and also the reasons to remain earthbound." — Minneapolis Star Tribune

"At their strongest, these stories by the high priestess of American speculative fiction are Borgesian in their evocative abstraction and inventiveness . . . Either way, their almost childlike simplicity is deceptive. The more you look, the more the strange worlds they conjure investigate some aspect of our own—from the inherent instability of selfhood and language to looming eco-catastrophe—as seen through a vibrant, satiric imagination darkly." — Time Out New York

"Changing Planes is fun, accessible to all kinds of readers, and jammed with ideas, which Le Guin obviously has in abundance." — Boulder Daily Camera

"Inventive and highly entertaining tales. Le Guin's touch is as magical as ever." — Kirkus Reviews, starred review

"This is . . . like everything from Le Guin's pen, a delight." — Publishers Weekly

"Speculative fiction master Le Guin explores assumptions about our own world . . . A humorous, imaginative, and thoughtful collection; Escher-like illustrations by Eric Beddows contribute to its charm." — Library Journal, starred review

"The narrative device that Le Guin uses in Changing Planes to connect the stories is the kind of clever contrivance her faithful readers have come to expect from her fertile imagination. In the telling of these tales, Le Guin—or her narrator, at least—is like an anthropologist, exploring with curiosity and reporting with as much objectivity as possible . . . [Le Guin's] stories are told with an elegant simplicity that belies their message, yet the message is invariably present." — BookPage

Praise for Ursula K. Le Guin

"Her writing feels more urgent than ever." — Zoe Carpenter, The Nation

"Like all great writers of fiction, Ursula K. Le Guin creates imaginary worlds that restore us, hearts eased, to our own." — Boston Globe

"In recent years, no [writer] inside the field of science fiction or outside of it [has] done more to create a modern conscience than . . . Ursula K. Le Guin." — New Republic

"She wields her pen with a moral and psychological sophistication rarely seen." — Newsweek

"Her characters are complex and haunting, and her writing is remarkable for its sinewy grace." — Time