The Bad Mood and the Stick (Hardcover)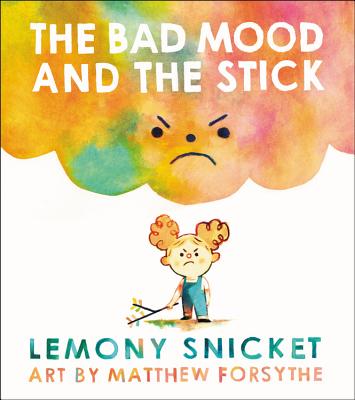 $17.99
Not in stock at store. Will, in most instances, ship from our warehouse in 7-10 days
Description
---
New York Times bestselling author Lemony Snicket sheds light on the way bad moods come and go.

Once there was a bad mood and a stick.

The stick appeared when a tree dropped it.

Where did the bad mood come from?

Who picked up the stick?

And where is the bad mood off to now?

You never know what is going to happen.
About the Author
---
Lemony Snicket had an unusual education and a perplexing youth and now endures a despondent adulthood. His previous published works include All the Wrong Questions, the thirteen volumes in A Series of Unfortunate Events, The Composer is Dead, and 13 Words.
Praise For…
---
* "Snicket fans will love this book."—Kirkus Reviews, starred review

* "Expressive action-filled illustrations [will] make the reader giggle and frown."—School Library Connection, starred review

"Snicket's quirky narrative voice and observations of events both great and lowly make this a fine readaloud--and a sure cure for a bad mood."—Publishers Weekly

"A cheerfully wacky read-aloud sure to brighten listeners' moods."—School Library Journal

"This light take on a negative feeling may be useful to adults working with children."—Horn Book


p.p1 {margin: 0.0px 0.0px 0.0px 0.0px; font: 13.0px Times}



"[The Bad Mood and the Stick] offers a playful way to talk about feelings we've all experienced."— p.p1 {margin: 0.0px 0.0px 0.0px 0.0px; font: 13.0px Times} Bulletin of the Center for Children's Books