Welcome to Subterranean Books.
Thanks for checking in.
______________________________________________________________
Sterling's Gold: Wit & Wisdom of an Ad Man (Hardcover)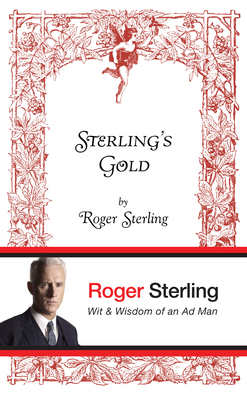 Description
---
When it premiered in 2007, the Mad Men series sparked a cultural phenomenon that now boasts over three million viewers. With a long list of awards including three back-to-back Golden Globes and three consecutive Emmys for Outstanding Drama Series, Mad Men has captivated the world with its brilliant portrayal of the 1960s and stylish characters, including the dashing advertising mogul Roger Sterling. Directing and discovering some of the sharpest talents in the business, Roger has shown an uncanny flair for unique methods of motivation and a tireless genius, resulting in campaigns that raise the advertising standard across the country, and acquiring a reputation for his quips, barbs, and witticisms along the way. Presented as Roger's memoir during the fourth season of Mad Men, and published as a "lost classic," Sterling's Gold is the entertaining collection of our favorite ad man's best one-liners. Roger Sterling's pithy comments and observations amount to a unique window into the advertising world--a world that few among us are privileged to witness firsthand--as well as a commentary on life in New York City in the middle of the twentieth century. Cleverly designed and accented by design elements and attractive color photographs, and encased in an elegant, compact period package, it's a must-have for any Mad Men fan.
About the Author
---
Roger Sterling is a Partner at the Sterling Cooper Draper Pryce advertising agency; his father founded the original Sterling Cooper in the 1920s with Bertram Cooper. A World War II veteran, Roger has suffered two heart attacks. In the past he's tried to change his hard-living ways, but is now smoking and drinking again. Roger divorces his first wife, Mona, after taking up with the much younger Jane Siegel, who briefly worked as Don Draper's secretary. Previously, Roger had a lengthy affair with Joan Holloway, then Sterling Cooper's Office Manager. Anticipating a costly divorce settlement with Mona, Roger encourages the takeover of Sterling Cooper by London's Puttnam, Powell, and Lowe. When the new managers leave him off a corporate organizational chart, however, Roger believes he's "being punished for making my job look easy." He feels similarly slighted by friends who can't accept his relationship with Jane. "I made a mistake by being conspicuously happy," he tells Don.